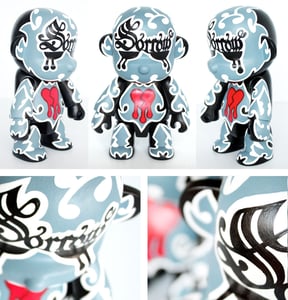 $

250.00
Introducing SORROW! This 8" custom is entirely painted by hand by Emily Bee. The base is the Qee figure by Toy2R. Sorrow's name is inscribed across his head.
-------------------------
Purchasing Info:
-Worldwide buyers welcome!
-Paypal payments only.
-Shipping is additional and includes insurance + a tracking number. Shipping from Spain.
-------------------------
Sorrow was inspired by William Shakespeare's 'Romeo + Juliet'. At one point in the play Juliet says goodbye to Romeo with the famous quote: 'Parting is such sweet sorrow.' This oxymoron combines contradictory ideas of pleasure + pain. Saying goodbye to Romeo triggers deep sadness in Juliet, but that sadness also reminds her of her love for him, and for this reason it is sweet. This idea is symbolized by the broken heart shield on his chest. I wanted to give an impression that he is wearing armour, and his feeling of sorrow comes from the true identity behind the mask.